Shears
When only the highest quality hedge shears are required for your topiary or general hedge trimming work, then look no further than Bahco professional hedge shears.  Hedge shears that are designed with the user in mind will ensure the following :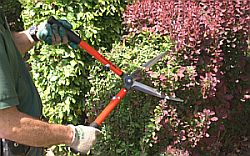 Well Balanced
Robust and Durable
Very sharp blades
Buffers to reduce fatigue and injury
Bahco hedge shears are available with two types of blades:
1.  Straight-Blade Shears
These shears feature long, sharply ground blades. They are used on most types of hedges, especially tightly packed hedges as used for topiary and in typical English gardens.  The professional models have serrations near the bottom of the blade for gripping and cutting larger twigs and hard wood during cutting.  
A sign of good shears : The blades are shaped so that they are only touching at the cutting point, this reduces friction and sticking.
2. Wavy Blade Shears
Wavy-Blade shears feature 2 very sharp blades, ground to a distinct wavy shape. The waves trap groups of twigs and prevent them from sliding along the blade during the cut, which ensures a uniform finish to the hedge. These shears are especially useful for cutting hedges and plants with a fairly open structure, like pines and vines.  
The waves stop the stems from sliding along the blade.
Shears
There are no products in this collection.