Professional Texture Equipment
Graco texture equipment is designed, manufactured and assembled in the USA. Graco offer texture sprayers designed to spray skim coat, plaster in an orange peel, splatter or knockdown finish, paints, and other heavy coatings. GO Industrial offers you the best, most extensive line of Graco texture equipment, accessories and spare parts to meet your needs.
GRACO TexSpray Mark V ProContractor

The TexSpray Mark V delivers a higher flow rate to complete jobs faster. Providing 20% more productivity than the Mark IV, this unit comes with an upgraded Heavy-Duty Texture Gun that can accommodate a larger tip size to handle all texture finishes and the wide range of primers and paint.
Work Smarter, Finish More Jobs. TexSpray Mark ProContractor Series electric airless texture sprayers are designed to deliver speed & performance so you can get to the next job-site faster and increase your profits.
TexSpray Mark V ProContractor Airless Spray System Includes:
> Heavy-Duty Blue Texture Gun
> RAC X LTX 427 Spray Tip
> RAC X LTX 531 Spray Tip
> RAC X Guard
> 3/8 in x 50 ft BlueMax II Airless Hose
> 1/4 in x 3 ft BlueMax II Airless Whip Hose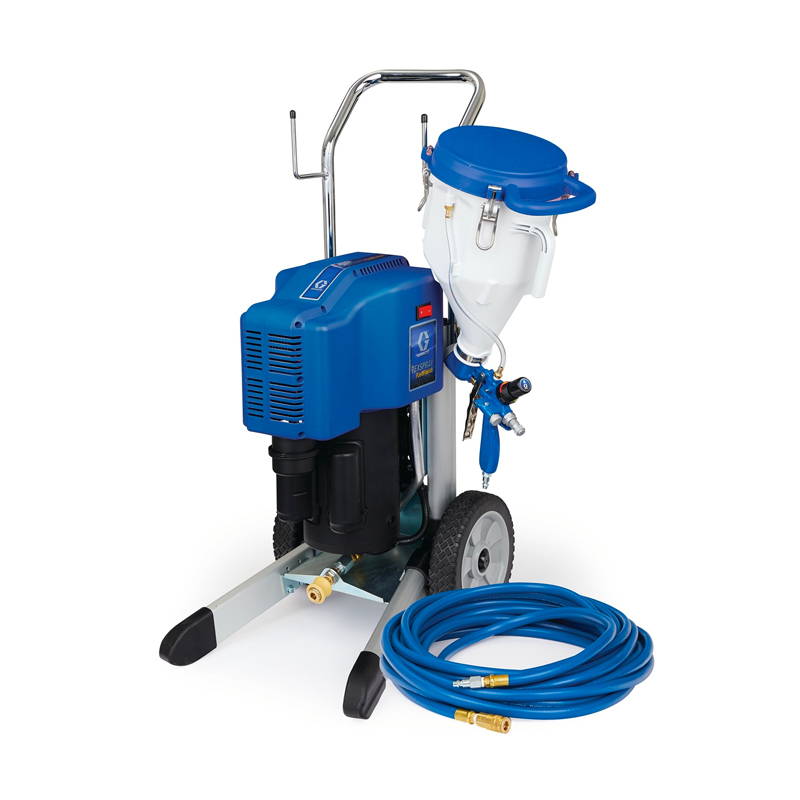 GRACO TexSpray FastFinish Pro System

Finish smaller texture jobs fast with less fatigue. The portable TexSpray FastFinish Pro System maximises material and airflow with a high-output, continuous flow air compressor and pressurised spray gun to deliver exceptional texture finishes up to 6X FASTER than traditional gravity-feed hoppers.
Small and portable, FastFinish maximises material and air flow with a high-output, continuous flow air compressor and pressurised spray gun, making it the ideal solution for smaller texture jobs.
TexSpray FastFinish Pro Texture Spray System Includes:
FastFinish CF9 Air Compressor
> 120V, 15 amp
> 9 cfm @ 40 psi
> Oil-less design
> Tank-less, continuous flow design
FastFinish Pressure-Boosted Hopper Gun
> 4 mm, 6 mm, 8mm Nozzles
> WideTex Fan Spray Kit
> 3/8 in x 50 ft Premium Non-Marking Air Hose
---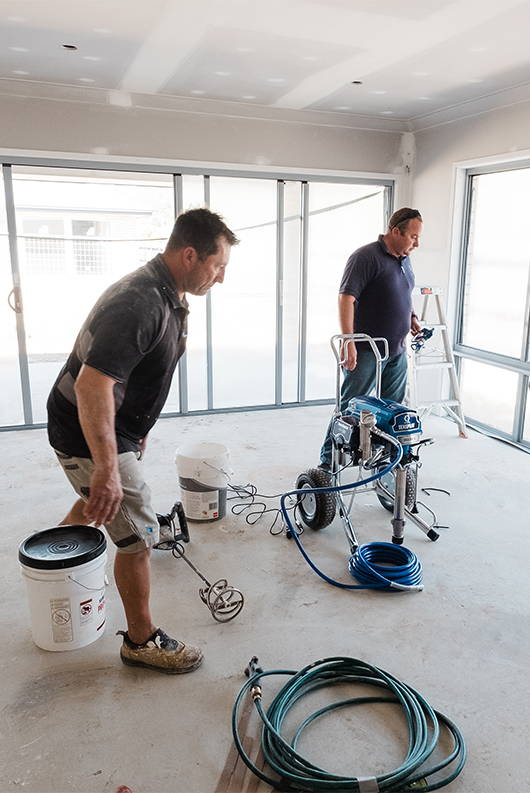 Looking for Graco Hopper Guns?
GRACO FAST FINISH PRESSURE-BOOSTED HOPPER GUN
Finish up to 6X Faster with Graco's pressure boost technology. The innovative system uses air to boost performance and deliver a superior spray finish. Benefit from the power of a large spray rig in the palm of your hand! FastFinish delivers a professional finish at breakneck speed, dramatically reducing the time required to HOLD a full 10 kg hopper overhead. The ultimate high performance, small job solution for the following materials: Smooth Touch-up, EIFS, Decorative Finish, and Acoustic Renders
DON'T NEED THE PRESSURE BOOST? 
The G-Tex Gravity Feed Hopper Gun has a double-handle design to provide maximum support and control for ceiling, wall and floor applications. Sprays acoustics, drywall mud, waterproofing materials, pool-deck sealant, stucco and most gravity-fed materials.
Graco Electric Airless Texture Sprayers
Graco TexSpray Mark Electric Airless Sprayers are ideal for contractors who need versatility, reliability and performance. The Mark Series delivers time after time and gives contractors the flexibility to accomplish jobs with varying levels of coatings and finishes, including Level 5 finishes. Spray paints and primers, heavy coatings or decorative texture finishes with one machine. Different models and series available for different jobs and applications. High-performance in a convenient, portable package; get more work done quicker, saving you time and money.
Graco Petrol Powered Sprayers
Graco petrol powered airless sprayers have long been the choice of professional contractors who need job site portability and highest production rates. These industry-proven sprayers deliver more power and are ideal for contractors who routinely handle heavier, thicker coatings. Graco invented the first portable airless paint sprayer over 60 years ago and we've been developing leading innovations ever since. Graco petrol powered airless sprayers have are Industry-proven configurations for small residential, large commercial or industrial jobs. Designed to meet your needs — every job, every day.
Graco's family of TexSpray RTX Texture Sprayers is ideal for contractors who specialise in anything from residential and remodel contracting to large-scale commercial contracting. Built with a broad feature set for both interior and exterior work, these sprayers perform. Ideal for applying decorative texture finishes such as orange peel, knockdown, splatter and simulated acoustics. Higher output with superior control ensures high-quality results. All Graco texture sprayers are Backed by GRACO's full warranty coverage.
Graco Genuine Accessories & Spare Parts
Choosing the right machine for the job

GET THE INTERIOR AND EXTERIOR FINISH YOU WANT
With the widest selection of texture sprayers to choose from and a host of performance enhancing accessories, there is a TexSpray™ texture sprayer to help you complete your projects — no matter what finish you desire.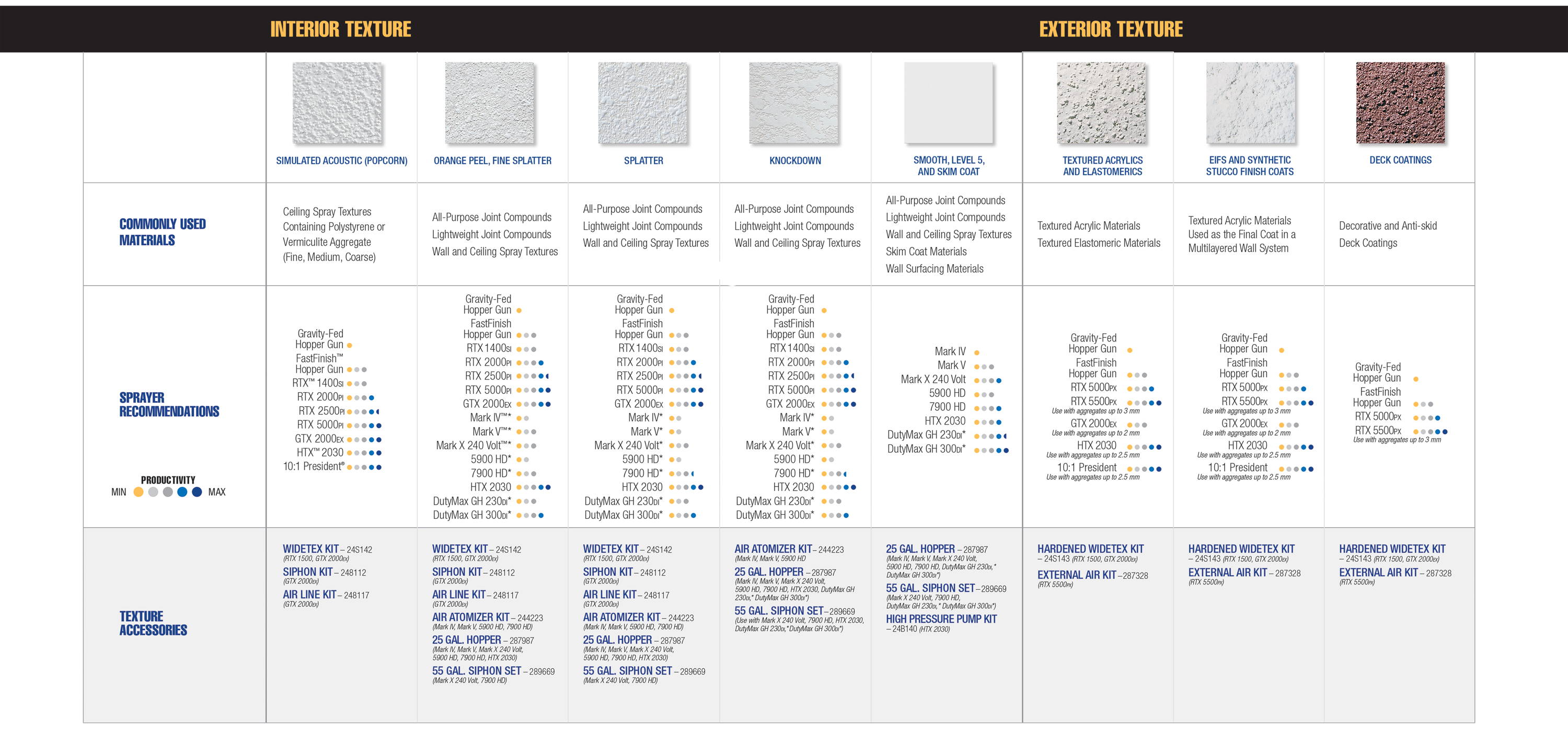 Authorised Service & Warranty
GO Industrial are fully certified and trained to service any of your Graco units.
Best Price Guarantee
If you find a better price, we can do our best to match or beat it!
Paint, Power, Workshop & Petroleum Equipment from GO Industrial.
Subscribe for exclusive deals, service advice, give-aways and more.